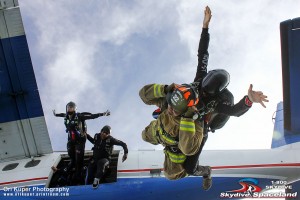 On July 14, skydiver/Houston firefighter Chris Lee (HazMat/22-D shift) organized a memorial skydiving event at Skydive Spaceland for the fallen and injured firefighters and all others who battled a deadly hotel fire in Houston on May 31, 2013. The fire killed four Houston Fire Department (HFD) firefighters and injured 13 more, making it the deadliest incident in HFD history.
"It was an honor to get the blessing of the families to show some respect and love to the HFD members who gave their lives so others may live," said Lee. "I am extremely blessed to have had the permission and blessing of the families to put on the jump."
Lee estimated that 20 firefighters, family, and friends attended the event to share remembrances of their loved ones. Several of those made their first skydives that day as well with a generous discount for HFD employees. Sabina Bebee, whose son Robert was one of the fallen firefighters and had jumped at Spaceland, was one of them.
"She told me, 'This is the closest I can get to my son without leaving this earth,' " recalled Lee. "It was a real spiritual moment after landing when she had a prayer moment with the family. It made the whole memorial worth it.
"Her reaction was exactly what I was looking for—closure and getting closer to their loved ones," he added. "Showing respect in a skydiving fashion was how I wanted to show them my condolences."
Lee also participated in an 18-person formation skydive featuring mostly Skydive Spaceland staff members who wanted to show their respect for the HFD. He jumped in his bunker gear to honor his firefighting family.
Several skydivers and firefighters alike have asked if this will be an annual memorial event, and Lee says this is a strong possibility.
###
Photos available: http://on.fb.me/12R4hEI (High-res images available by contacting the photographers directly: Ori Kuper at or******@gm***.com and Hilary Bruce at hi********@gm***.com.)
About Skydive Spaceland
Skydive Spaceland is a three-generation family-owned and -operated skydiving business located in Rosharon, Texas, just south of downtown Houston, Texas. First opened for business in February 2000 by Steve Boyd, Sr., Skydive Spaceland has grown into a truly world-class skydiving facility open 7 days a week and capable of handling hundreds of skydivers jumping daily. More than 100,000 skydiving students have been instructed at Spaceland and the center facilitates about 70,000 skydives per year.
Skydive Spaceland has also played host to the world's largest skydiving competition, the  United Parachuting Association National Skydiving Championships (2009) , as well as several other large competitions including the U.S. National Collegiate Parachuting Championships and multiple U.S. National Canopy Piloting Championships. Several state records have also been set at Spaceland including the Texas State Record 150-person skydive in 2007, 168-person skydive in 2011, and multiple Women's Texas State Record skydives held jointly as fundraisers for Jump for the Rose, a Houston-area breast cancer clinic.