During an annular solar eclipse, the moon appears slightly smaller than the sun, so it can't block the entire disk. The result is a beautiful "ring of fire."
On Oct 14, 2023, Spaceland San Marcos will be in the path of this amazing visual event. You can skydive during the "Ring of Fire" eclipse, which is a solar eclipse that's 94% complete with a ring of fire around the moon as it passes between us and the sun (also called an annular eclipse). These only happen about once every decade, so don't miss this chance to be in the sky during this event! Slots are extremely limited; the window of totality is only 6 minutes long!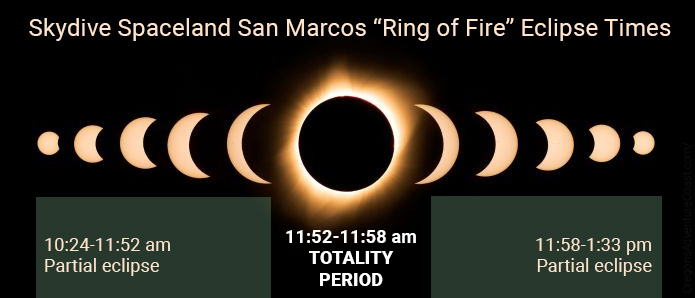 First-time skydivers as well as licensed skydivers are welcome to join us for this amazing experience! Your Eclipse Skydive will also come with extras such as solar eclipse glasses, a commemorative T-shirt, stainless coffee thermos, and a voucher for Tru Love Coffee (which will be on site for the event with a fancy coffee designed just for the event)!
Get your tickets before they're gone, and stay tuned for updates on the Facebook event page!
NOTE: Licensed jumper totality slots are sold out. Add yourself to the waiting list!