At Skydive Spaceland-San Marcos we fly a Cessna Supervan 900 and often a DeHavilland Super Twin Otter.
Following is some information on each type of aircraft, as well as the King Air A90 we sometimes use as backup.
We also lease, buy, and sell aircraft (for more information: email Steve Boyd or call him at 281-369-3337).
DeHavilland Super Twin Otter
Crew: One pilot
Capacity: Skydiving configuration: One pilot and up to 23 skydivers. With seats, 19 passengers plus 1 or 2 pilots and possibly a flight attendant.
Dimensions: 

Length: 51 ft 9 in (15.77 m)
Wingspan: 65 ft (19.8 m)
Height: 19 ft 9 in (5.93 m)
Wing area: 420 ft² (39 m²)

Weights

Empty weight: between 7,100 lb (3,200 kg) and 7,500 lb (3,400 kg)
Loaded weight: 12,500 lb (5,670 kg)
Useful load: 5,200 lb (2,360 kg)
Max. takeoff weight: 12,500 lb (5,670 kg)

Powerplant: 2 × Pratt & Whitney PT6A-27 turboprop engines, 620 hp – 680 hp (460 kW – 507 kW) each
Performance

Maximum speed: 170 knots (195 mph (314 km/h))
Cruise speed: 150 knots (173 mph (278 km/h))
Stall speed: 58 knots (VSO, gross weight, landing configuration)
Range: 920 nautical miles (1,050 mi (1,690 km))
Service ceiling: 25,000 ft (7,620 m)
Rate of climb: 1,600 ft/min (8.1 m/s)
Power/mass: 10.08 hp/lb (6.132 kW/kg)
---
Cessna Supervan 900 (modified Grand Caravan)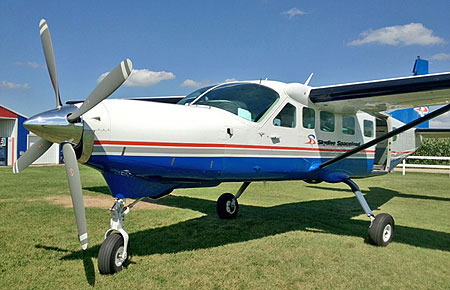 Crew: One pilot
Capacity: Skydiving configuration: Maximum 17 passengers and one pilot. With seats, nine passengers or 14 with FAR Part 23 waiver
Dimensions

Length: 12.67 m (41 ft 7 in)
Wingspan: 15.88 m (52 ft 1 in)
Height: 4.32 m (14 ft 2 in)
Wing area: 26.0 m2 (280 sq ft)
Supervan 900   Specifications vs. OEM
Specification
Standard OEM Grand Caravan*
Supervan 900
Engine
PT6A-114A
TPE331-12JR
Horsepower
675 shp flat-rated
900 shp flat-rated
Torque
1865
2971 ft-lbs
TBO
3600 hrs
7000 hrs
Max gross weight
8750 lbs
9062 lbs *
Std. empty weight (wheels)
4575 lbs
4675 lbs
Useful Load (wheels)
4175 lbs
4387 lbs *
Climb (ISA- g.w.)
975 ft/min
1510 ft/min
Max Cruise (10,000 ft.)
175 kts
198 kts
Max Cruise fuel flow
396 lbs/hr
435 lbs/hr
Takeoff (ground roll)
1405 ft.
1054ft
Takeoff (50′ obstacle)
2420 ft
1875 ft
Landing (wheels)
950 ft
950 ft
Power loading
13 lbs/shp
10.1 lbs/shp
Stall Speed- flaps
61 kts
61 kts
Endurance (max cruise- standard fuel)
5.6 hrs
6.2 hrs
Range (max cruise- standard fuel)
915 nm
1000 nm
* With gross weight increase kit installed
---
---
King Air A90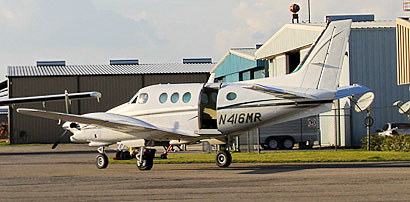 Specifications obtained from the FAA Type Certificate and the Hawker Beechcraft website[63][65]
General characteristics
Performance
Information from Wikipedia