Description
Helicopter jumps at Spaceland San Marcos June 29th and 30th!    (That's Saturday and Sunday for the calendar-challenged)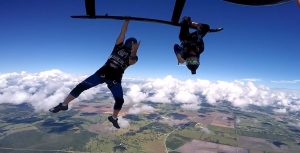 Yep, that's during the 'Come and Take It' boogie.  What could be better?!?!
We're flying a Robinson R44 helicopter. Grab a couple of friends and enjoy the thrill of a great helicopter ride and a zero airspeed exit!
Here's the "there must be a  catch" – the helicopter carries 3 jumpers and will only fly when there are 3 jumpers manifested.  Sorry, no light loads.  Good news – there should be NO PROB getting 2 jumpers to join you for a choppah hop!
Exit altitude is about 5K.
Limited tickets are available so buy your tickets now!
When you get to the DZ, check-in at manifest to get on a load.
Questions? Contact Skydive Spaceland San Marcos  manifest at 512.488.2214.
Helicopter jumpers must be at least B-license qualified (license in hand or application completed and sent in).
PS: Don't forget your camera if you have at least 200 jumps! 🙂