Description
You are booking a slot that will enable you to exit the aircraft at normal full altitude (up to 14,000 feet) shortly before or after the totality period of the "Ring of Fire" eclipse. The entire eclipse event lasts for close to 3 hours, but the totality period is only about 6 minutes!
Manifest for all eclipse loads will be built and posted online prior to the eclipse date. Be at the drop zone checked in no later than ONE HOUR before your scheduled load; if you are not here in time, you will lose your slot (and it will not be refunded). If you have not jumped with us before, be here TWO HOURS before your scheduled load to allow for initial check-in and dropzone briefing.
Want to know even more about the "Ring of Fire" Solar Eclipse?  Click here –> Animation of the eclipse
Extras
In addition to your amazing eclipse skydive, you'll also get extras such as solar eclipse glasses, a commemorative T-shirt, thermos, and a voucher for Tru Love Coffee (which will be on site)!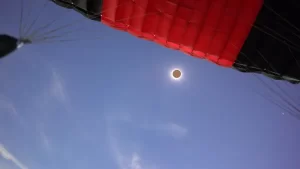 Note: Price is for licensed skydivers jumping their own equipment. Does not include gear rental. All eclipse loads will go to full altitude; no low-altitude hop and pops. High pulls will be allowed on a limited first-come, first-served basis.
Currency at Spaceland San Marcos
We STRONGLY recommend having made at least one regular daytime jump at Spaceland San Marcos within a month of this event to familiarize yourself with the location, hazards, and outs. If your highest skydiving license is an A license or foreign equivalent, you must make a daytime skydive here within the previous week in order to jump during the eclipse event. 
Weather/Aircraft issues Refund Policy
Full refunds will be allowed until Oct. 7. After that period and in case weather or aircraft issues keep us from jumping during the eclipse, jumps are refundable but the $99 registration fee is not. Refunds may be left on your account for other uses or refunded to the original form of payment.